Ftorcalcit- E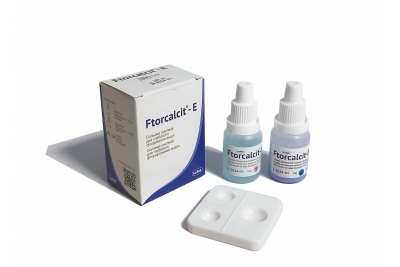 Ftorcalcit- E
Product Description
Saline system for deep fluoridization of the enamel
Use in prophylactics mani- pulates on teeth enamel in dentistry.
Composition and main characteristic
Ftorcalcit-E kit includes fluid No. 1 and liquid No. 2.

Composition of liquid No. 1: magnesium fluorosilicate, copper fluorosilicate, distilled water.
Composition of liquid No. 2: highly disperse calcium hydroxide, copper hydroxide, thickeners, distilled water.

Sequential application of liquids No. 1 and No. 2 Ftorcalcit-E provides deep fluoridation of tooth enamel or bone cement of the neck of the tooth. As a result of the reaction between the components of the liquids, a gel of silicic acid and the crystals of calcium, magnesium and copper fluoride distributed in it are formed. High concentration of fluoride and copper ions provides tooth protection from cariogenic microorganisms, stimulates the regeneration of periodontal tissues.
Package:
10 g liquid № 1 in a bottle
10 g liquid № 2 in a bottle
flask
REF 1332 Ftorcalcit-E
Contact Us
Plot No. 517/1, Mahavir Industrial Compound, Naroda Dehgam Road, Opposite Shyam Shikhar Flat, GIDC Naroda, Ahmedabad, Gujarat, 382330, India
Phone :+918035928450